---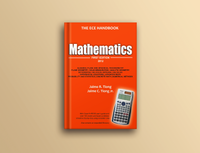 The ECE Handbook: Mathematics
A very helpful book for reviewees. It is equipped with math concepts, questions and solutions. Thank you so much, Excel.
ECE Handbook mathematics Review
On time delivered and well packaged. It's a good book for board examinees especially math field.
The ECE Handbook: Mathematics
Received and it is on good condition. Thank you!
The ECE Handbook: Mathematics Review
I'm so glad that I bought this book. Its contents are very helpful since the problems varies from topic to topic with step by step solutions. It even has calculator techniques in solving specific problems and little overviews of the current topic problem. It really refreshes my basic mathematics knowledge as preparation for my board exam. Thank you so much Excel Review Center!