---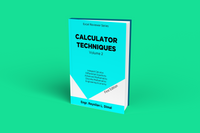 Excel Reviewer Series: Calculator Techniques Volume 2
A very helpful book for learning calculator techniques. Thank you so much, Excel.
Very helpful! Thank you so much, Excel!
IIEE-RCSC-WESTERN MINDANAO REGION
We are extremely satisfied with the books we received from your review center. The quality of the books exceeded our expectations. With these, the students who have received the books are thrilled to use them. Especially after hearing one of your review center's representatives speak about the ease of learning calculator techniques to solve mathematical problems on our webinar. We are thankful for the high-quality products and your collaboration.
IIEE-Council of Student Chapters
It exceeds my expectations. The items were well secured with good packaging, and they were received earlier than expected, and the books themselves were very good quality. Five stars won't be enough to rate it. Grateful to have such a quality product.